Request for Help from Wells Fargo Workers
08 Mar. 2019
This appeal has been distributed by the AFL-CIO:
While working at Wells Fargo in Minneapolis helping customers with their auto loans, I have seen how the toxic, high-pressure sales culture that caused Wells Fargo so many problems is coming back.
Despite public assurances from the company, many of us across the country still have unattainable metrics and are vulnerable to retaliation if we speak up about unethical practices. The pay is so low that I, like many of my co-workers, need a second job in order to make ends meet. Incentive pay based on loan volume has returned for some employees.
While many of us are still scared about speaking up because of possible retaliation from management and the risk of losing our jobs, I have decided to join several of my co-workers in Washington, D.C., to make sure our side of the story is heard when Wells Fargo CEO Tim Sloan testifies before the U.S. Congress next Tuesday.
Sign this petition to demand that Wells Fargo CEO Tim Sloan meet with the Committee for Better Banks!
We are fighting to make things different for everyone in the industry. Together, Wells Fargo workers and community allies are coming to Washington, D.C., to hold Sloan accountable and to make sure our representatives and senators know the truth about how we are treated. We are fighting for a voice on the job and to improve our working conditions and job security so we can speak up when we're being pressured to cut corners that could harm customers.
It's time for Wells Fargo CEO Tim Sloan to meet with the Committee for Better Banks. We demand respect and a genuine "seat at the table" so we can have an honest conversation about workplace issues.
To get Wells Fargo's wheels back on, it's time to listen to the workers harmed by these problems every day.
In Solidarity,
Alex Ross
Wells Fargo employee
______________________________________________________________________________
UE Locals 506, 618 Strike at Wabtec
07 Mar. 2019
More than 1,700 workers at a locomotive manufacturing plant in Erie have agreed to head back to work on Monday, ending what will be a nearly two-week strike that garnered national attention right as Wabtec Corp. celebrated an historic merger with GE Transportation.
The Wilmerding-based transportation company and the United Electrical, Radio and Machine Workers of America Local 506 and Local 618 announced the deal in a joint statement on Thursday after meeting with a federal mediator. The two sides agreed to a 90-day contract that allows for more negotiations toward a long-term deal.  . . .
Wabtec, which touted its entry on the Fortune 500 and plans to move its headquarters to Pittsburgh this year, wants to impose a two-tier wage system that maintains a $35-an-hour wage for current workers but pays lower wages to new hires and workers called back from layoff. The company also wants the ability to require overtime hours when it deems necessary.
The United Electrical, Radio and Machine Workers of America Local 506 refused to work under those terms, calling them major concessions proposed in rushed negotiations. Wabtec has blamed the union for the strike, portraying its proposals as in line with its other plants and necessary to compete with "low cost" plants in China and Mexico.
In the 90-day deal, both sides agreed to put off any kind of work stoppage and maintain key working conditions while bargaining. . . .
The full article written by Daniel Moore for the Pittsburgh Post-Gazette can be found at: https://www.post-gazette.com/business/career-workplace/2019/03/07/Strike-over-Wabtec-Erie-locomotive-workers-reach-90-day-deal-pittsburgh/stories/201903070084.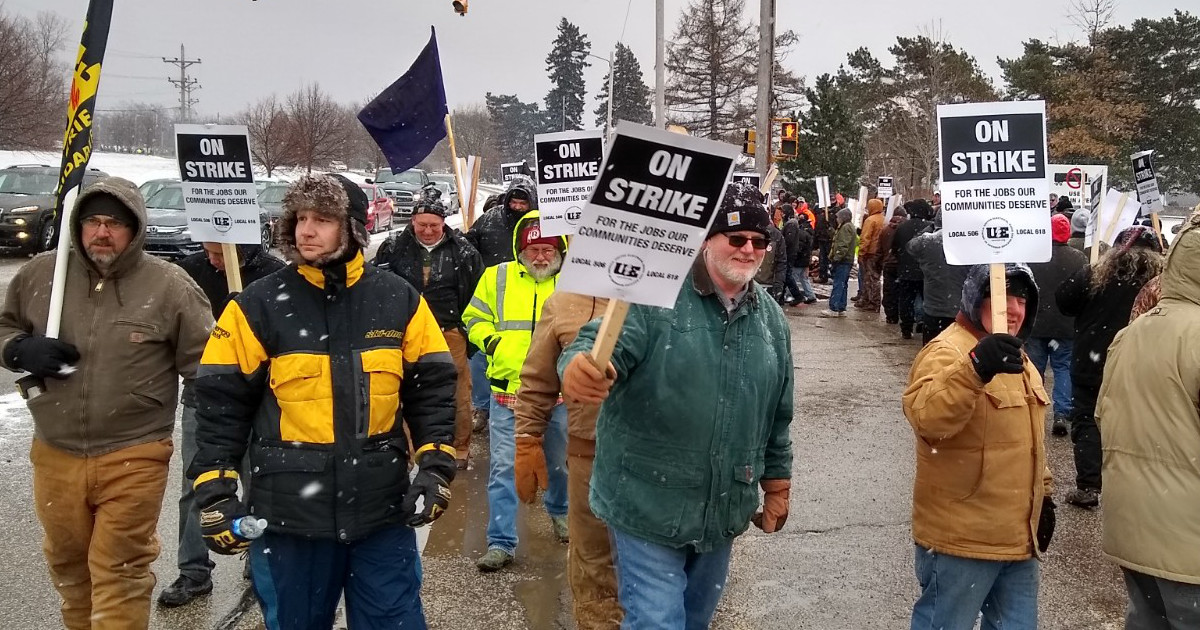 More photos from the picket line can be found on UE's Facebook page
______________________________________________________________________________
Summit Academy Teachers Strike in Parma, Ohio
After a nine-day strike, teachers and intervention specialists at Summit Academy in Parma voted to make their first union contract official on Friday.
The strike came after teachers claimed negotiations with the school were not being handled in "good faith"
The teachers were seeking improved health and safety conditions, manageable class sizes and caseloads, planning periods, and standards that would allow the school to retain quality teachers. . . .
Summit Academy in Parma was the first charter school strike in Ohio, but the fourth nationwide, following on in Los Angeles and two others in Chicago. . . .
The complete article written by Camryn Justice for ABC 5 Cleveland is available at: https://www.news5cleveland.com/news/local-news/oh-cuyahoga/teacher-strike-at-summit-academy-in-parma-ends-with-ratification-of-first-union-contract.
______________________________________________________________________________
West Virginia Judge Strikes Down Right-to-Work Law
27 Feb. 2019
A circuit judge has struck down key components of West Virginia's 2016 right-to-work legislation.
Kanawha Circuit Judge Jennifer Bailey issued the opinion Wednesday, three years after the Legislature first passed the law.
"The new law will require unions and union officials to work, to supply their valuable expertise and to provide expensive services for nothing," Bailey wrote in her 46-page ruling. "That is, in a word, arbitrary."
The overriding issue is whether employees who join a workplace represented by a union have to pay some form of dues, whether they embrace union representation or not.
Bailey concluded that association would not be forced on anyone. Instead, the judge wrote, the fees collected by unions "essentially function as taxes on collective bargaining members for the costs of 'legislative' and governmental services."
The judge also concluded that prohibiting a union from collecting such fees constitutes a taking of property: "It takes money from the union, and derivatively from its members, and essentially gives it to free riders."
She wrote, "Membership is obviously the lifeblood of any labor organization. Members' dues provide unions with nearly all of their revenues for operating expenses, and members' commitment and participation give the organizations their capacity to represent workers effectively in dealing with employers.
"S. B. seriously hampers the unions' ability to recruit new members and retain old ones."
The judge went on to write, "If unions cannot exact agency fees, employees would be able to receive, without any cost to them, the full benefit of the union's services in negotiating and administering the contract. And if workers can get those services for free, they would have no incentive to join the union or remain a member.
"In fact, those who do join or stay in a union would be paying a penalty for the privilege because their dues would have to be raised to underwrite the union's services provided to the free riders."
______________________________________________________________________________
Teacher Sick-Outs in Kentucky's Two Largest School Districts
27 Feb. 2019
Kentucky's two largest school districts will be closed Thursday after a grassroots network of teachers called for a sickout to protest a bill that would restructure the board that oversees the state's teacher pension system.
Jefferson County Public Schools and Fayette County Public Schools each announced late Wednesday that they did not have enough substitutes to cover the number of teacher absences reported. 
Roughly 40 percent of the district's school employees said they would not be showing up to work on Thursday, FCPS said.
KY 120 United, a group that formed during last year's teacher protests, called for the sickout Wednesday evening on social media.
Photo from earlier protests at the Kentucky capital over legislation targeting teacher pensions.
The complete article written by Mandy McLaren for the Louisville Courier Journal is available at: https://www.cincinnati.com/story/news/education/2019/02/27/ky-120-united-calls-sickout-over-pension-board-issue/3010332002/?utm.
______________________________________________________________________________
Transport Workers Union
26 Feb. 2019
The Transport Workers Union supports the launch of a dozen locals' latest campaign, 
American Airlines Should Care
, focused on educating the public on the issues affecting Air Division members.  
For over three years, the TWU has been engaged in contract negotiations with American Airlines and have been embroiled in a battle to save U.S.-based jobs that are vital to the safety and security of America's air travelers and flight crews. Now, it's time to get the general public on our side and educate them about American Airlines' unfair and potentially unsafe practices.
As a TWU member, you can help spread the message on behalf of your Air Division brothers and sisters. We cannot do this without you! The objective of sharing this campaign with your family and friends is to help spread the message of our continuing struggle to setting a contract with American Airlines.
Here's what you can do to help and find more information:
Visit the campaign website: AAShouldCare.com
Follow on Facebook: @AmericanAirlinesShouldCare
Follow on Twitter: @AAShouldCare
Sign the Petition: http://chng.it/thyrrtmzJb
When posting on social media, be sure to use the hashtag#PowerofCaring. The slogan is "Discover the #PowerofCaring"
This campaign is supported and paid for by TWU Locals 501, 502, 505, 507, 510, 512, 513, 514, 529, 567, 568, and 591.