AUGUST 2021: Ohio Redistricting Commission Meetings Near You
We all know the importance of redistricting to the political landscape.

We encourage you to show up at a meeting near you (listed below) and let the commission members know you want fair maps, fair districts and fair elections. It is time to stop the partisan bickering and gaming the system. It is time for communities of voters to pick who will represent us and not the other way round.
More Complete Information on Locations Parking and How to Submit Testimony:
https://redistricting.ohio.gov

Here is a list of the public hearings, places and times for our Labor Council:
Tuesday, Aug. 24 from 9:30 a.m. – 12:30 p.m.: Sinclair Community College, 444 W. Third St., Dayton.
Thursday, Aug. 26 from 9:30 a.m. – 12:30 p.m.: Ohio State University – Lima, Life Science Building, Room 100, 4240 Campus Drive, Lima.

COVID-19 guidelines encourage masks and social distancing. Your voice is your power. Stay informed, involved, and #ProtectTheRightToVote.
MAY, 2021: The University of Akron Chapter of the AAUP has recently set up a Faculty Care Fund to provide support to the 66 faculty whose jobs were lost as a result of reduction-of-force measures.Support their cause by donating to the Faculty Care Fund.
AUGUST 2021: Ohio Redistricting Commission Meetings Near You

We all know the importance of redistricting to the political landscape.
Support our friends at the University of Akron
11 May 2021
The University of Akron Chapter of the AAUP has recently set up a Faculty Care Fund to provide support to the 66 faculty whose jobs were lost as a result of reduction-of-force measures.
Showing Solidarity with East Liverpool Nurses Association
21 Nov. 2020
The East Liverpool Nurses Association, which is an ONA/AFT affiliate started a 3-day strike today after many months of bargaining.
You can support them by signing on to this online letter campaign that will send messages to the East Liverpool City Hospital's Board of Trustees:
https://p2a.co/RBjXS5T
.
East Liverpool Nurses Association goes on strike
__________________________________________________
Support Striking GM Workers!
16 Sep. 2019+
This GIG is from the UAW.
Photo by Jim West for Labor Notes
Sarah Elms and Jon Chavez have written a fairly substantial article on the early hours of this nationwide strike for the Toledo Blade: https://www.toledoblade.com/business/automotive/2019/09/15/uaw-says-strike-will-happen-if-gm-holds-firm/stories/20190915139.
___________________________________________________________________________________________
Support Rutgers Chapter as Strike Looms
08 Apr. 2019
After thirteen months of bargaining without gaining equal pay for equal work for women faculty, adjuncts, and graduate employees and an 88 percent strike authorization vote, more than 4,800 full-time faculty and grads represented by the Rutgers AAUP-AFT chapter may strike this week.
In an attempt to avert a strike, union members will picket a board of governors meeting on Tuesday, April 9. The picket will be an appeal to the top administration to invest in their students' learning conditions and fund the first graduate employee raises since 2013 as well as providing equal pay for equal work across all of Rutgers' campuses and job titles.
If you can, please send a simple message of support ahead of the picket for use at the event. Solidarity messages are also welcome throughout the week! You can send them by email for the chapter to place on their website or post on social media (or both).
By email:
Please send to chapter president Deepa Kumar at guernica1968@gmail.com and staffer Sherry Wolf at swolf@rutgersaaup.org.
Here's a sample text that you can personalize:
We stand in solidarity with the Rutgers AAUP-AFT faculty union. Your fight is our fight: for gender and race equity, quality higher education, job security and fair wages for the lowest paid teachers. Should you strike, we will support that action – as a renewal of the promise of genuinely public higher education for everyone.
On social media:
Please use these hashtags for social media: #FairContractNow #EquitySecurityDignity #RUReady2Strike
Website: http://equitysecuritydignity.org/
Twitter: @RUaaup
Facebook: https://www.facebook.com/RUaaup/
Instagram: https://www.instagram.com/ruaaup/
In solidarity,
Paul Davis, AAUP-CBC chair
___________________________________________________________________________________________
Support the Part-Time Faculty Union at the University of San Francisco
U of SF (CA), a Jesuit school, adjuncts ask for support in current bargaining (one of the oldest private sector adjunct unions in the US)
Dear Union Brothers and Sisters,
Part Time Faculty at the University of San Francisco ask you to stand with us in current contract talks with USF Administration. USF Management has been dragging its feet in negotiations, now in their 10th month — the longest in our 35 year history. USF is a Jesuit institution with a mission dedicated to social justice. Tell USF Management that social justice starts at home: USF Part Time Faculty Deserve a Fair Contract!
We urge you to SIGN THE PETITION at https://bit.ly/2ts9Rnn
And, if you're able, send a letter or resolution of support to USF Administrators (below).
We appreciate the solidarity shown by the San Francisco Labor Council, that unanimously passed a resolution supporting USF Adjuncts.
In solidarity,
Executive Committee of the USF Part Time Faculty Association, AFT Local 6590
President John Higgins, VP Sue Bae, Secretary Rebecca Seeman, Treasurer Bob Bathrick
Email:
officers@usfptfa.org
=====================Part Time Faculty at the University of San Francisco Deserve a Fair Contract!Sign the Online Petition
Use this link:
https://bit.ly/2ts9Rnn
Or scan this code with your mobile phone:
Write a Letter
President Paul Fitzgerald Email: pjfitzgerald@usfca.edu
Provost Don Heller Email: deheller@usfca.edu
Board of Trustees Email: boardoftrustees@usfca.edu
With a copy to: officers@USFPTFA.org
University of San Francisco
2130 Fulton Street
San Francisco CA 94117
Dear President Fitzgerald, Provost Heller, and the Board of Trustees,
I ask that you negotiate in good faith with the USF Part Time Faculty Association (PTFA) in a manner consistent with Jesuit values of social justice and USF's mission.
The PTFA is the union representing over 600 adjunct faculty at USF, affiliated with the American Federation of Teachers/ CFT Local 6590. This largest of the faculty groups on campus is also the most vulnerable. Read stories about their struggles on Facebook: www.facebook.com/usfptfa
Part Time Faculty are seeking:
• A fair salary increase that matches the % by full time faculty;
• Lower health care rates; currently their rates are the highest of any covered group at USF;
• Job security and predictability;
• Fairness in course assignments;
• A Part Time Faculty Peer Review;
• Inclusion of part time faculty into decision-making at all levels of the university;
• No freeze on promotion applications to the "Preferred Hiring Pool" (PHP);
• Increased security and benefits for members who do not have PHP status.
• No harassment of the Union negotiating team or retaliation of members for Union activity.
President Fitzgerald, Provost Heller, and members of the Board of Trustees: Social justice begins at home. Please negotiate in good faith–and with respect–with part time faculty at USF for the benefit of USF students, faculty, and University communities.
The USF Part Time Faculty Association AFT Local 6590
Email: officers@USFPTFA.org Facebook: facebook.com/USFPTFA Web: USFPTFA.org
___________________________________________________________________________________________
Support Workers Affected by Lordstown Plant Closure
04 Apr. 2019
General Motors shut down production at its Lordstown, Ohio plant even earlier than expected — putting the people who have made this company a success out of a job. It is unacceptable. The workers deserve better than this.
Hundreds of workers have lost their jobs. And President Trump is choosing to rub salt in those workers' wounds.
The Lordstown plant has built cars for over half a century. There used to be so much work here, they needed three shifts. A few years back, those working the third shift lost their jobs. A couple months ago, the second shift was put out of work. And now, the first shift is gone, too.
Trump repeatedly promised that jobs would come back to these factories. He promised that the tax cuts he gave to billionaires and corporations would trickle down to hardworking families. Trump broke both of those promises, and if that makes you as angry as it makes me, then I hope you'll sign this petition.
People might not know this, but the Lordstown plant has a long history in the fight for the dignity of work. As early as the 1970s, Lordstown workers were organizing not only for better wages and a safer workplace, but also for a say in the operation of the plant. They wanted the dignity that comes with being seen, heard, and valued.
So, once again, the Lordstown plant and the people who once worked there are at the center of something big in America. And if the president wants to tell these laid-off workers that the massive tax cut he handed big companies like GM — incentivizing them to send jobs overseas — was actually a good thing, I'd invite him to visit northeastern Ohio and say it to our faces.
President Trump is giving tax breaks to corporate bosses and leaving American workers out in the cold. Sign my petition and stand up for the people Trump has forgotten.
With gratitude,
Sherrod
___________________________________________________________________________________________
Marathon Negotiations Resume at Community College of Philadelphia
3 April 2019
Marathon negotiations to hammer out a contract with faculty and support staff at Community College of Philadelphia and avoid a strike resumed at 11 a.m.
After three years of largely stagnant negotiations, it's the fourth consecutive day of intense efforts to get an agreement at the 27,800-student college. . . .
Tuesday was the third consecutive day of marathon bargaining with a mediator, as the union and college try to avert a strike.
City Council President Darrell L. Clarke urged the parties to reach an agreement.
"It is imperative that students enrolled in CCP continue to receive their education without interruption, and as such I urge both sides to remain at the bargaining table in order to reach a fair contract as soon as possible," he said in a statement issued Tuesday.
If a strike occurs, the college said it would try to keep classes running but would suspend them if not enough faculty showed up. Offices and buildings at CCP would remain open, the school's president has said.
Pressure at the college has been building for months, with escalating demonstrations, public statements and posturing. CCP president Donald "Guy" Generals said the college was considering imposing its last best offer, details of which were released in May. That proposal, retroactive to Sept. 1, 2016, and running through Aug. 31, 2021, would give union members more than a 10 percent cumulative raise, but also would require heavier workloads for newly hired faculty, as well as health-care contributions.
The minimum starting salary for a full-time faculty member is $50,529, with the average below $70,000. Some support staff earn less than $13 an hour.
Last Wednesday, members overwhelmingly voted to authorize union leaders to call a strike.
Faculty and support staff have been operating under the terms of a contract that expired in August 2016. The sides have been divided over faculty workload, health insurance, and compensation.
The complete article written by Susan Snyder for the Philadelphia Inquirer is available at: https://www.philly.com/education/community-college-strike-faculty-philadelphia-20190402.html.
___________________________________________________________________________________________
UIC Grad Workers Strike for Living Wages, Respect
20 Mar. 2019
On March 19, after a year of unsuccessful contract negotiations, UIC's 1,500 graduate student workers went on strike. They're seeking a salary increase and fee relief.
The graduate employees are currently paid about $18,000 a year and given free tuition for two semesters of 20-hour work weeks. UIC Graduate Employees Organization co- president Jeff Schuhrke says teaching assistants are often the primary instructors in undergraduate classes of up to 60 students. At UIC and elsewhere, this arrangement is justified as an apprenticeship, but it's long been exploited to the university's advantage.
GEO is asking for a significant raise: 22.6 percent over three years. Schuhrke, who notes that "we can't pay rent or buy food with a tuition waiver," said in an interview last week that this would just bring UIC closer to the salaries paid by other major urban research universities. That's an observation backed up by letters of support from faculty, noting the increasing difficulty of recruiting talented graduate students.
UIC says it has offered a raise of 11.95 percent over three years. . . .
GEO is also concerned about rising fees that it says now amount to as much as $2,000 annually. These include a fee that singles out international students, whose visas, Schuhrke notes, don't allow them to seek outside work. (How important are international students to the finances of the University of Illinois system? It was revealed last fall that the University of Illinois at Urbana-Champaign is now paying $424,000 annually for a $60 million insurance policy that protects it against a drop in enrollment of business and engineering students from China.)
Then there's the hefty "General Fee," applied to all students; it's increasing $50 per semester, to $962 for the next two-semester academic year. According to the university website, the General Fee supports the fixed costs "of operating fee-supported facilities on campus," including housing.
The complete article written by Deanna Isaacs for the Chicago Reader is available at: https://www.chicagoreader.com/chicago/uic-grad-student-strike/Content?oid=69382847.
___________________________________________________________________________________________
Chicago Symphony Orchestra Goes on Strike
15 Mar. 2019
Only hours after performing a concert of Beethoven and Dvorák on Sunday afternoon, the musicians of the Chicago Symphony Orchestra announced a strike saying they had "no choice."
After nearly a year of contract negotiations with the Chicago Symphony Orchestra Association, the chair of the players' negotiating committee, Stephen Lester, said the two sides remained "very far apart in both wages and pension" issues.
"This is about maintaining the standards of our orchestra," said Lester. "We have achieved a level of artistic accomplishment that must be sustained."
Negotiations between CSO management and the orchestra, which is represented by the Chicago Federation of Musicians, Local 10-208, began last March. The musicians' contract expired in September but the two sides agreed to a six-month extension to continue talks. The new deadline was 11:59 p.m. March 10, 2019. With no new contract in sight, the players said they will begin picketing outside Orchestra Hall on Monday morning. . . .
The CSO strike is the second walkout by a major Chicago orchestra this season. Last October the Lyric Opera of Chicago Orchestra staged a two-week strike that resulted in a pay increase but a reduction in the number of musicians in the orchestra.
The complete article for WTTW Chicago is available at: https://news.wttw.com/2019/03/11/chicago-symphony-orchestra-goes-strike-contract-talks-collapse.
______________________________________________________________________________
Amazon Workers in Minnesota Hold Overnight Strike for Better Conditions
11 Mar. 2019
Minnesota has become a hotbed of labor unrest within Amazon's ranks, where a contingent of workers organized via local East African community group Awood Center first pressured the company's brass to sit in on negotiations in November and staged a mass protest outside their facility a month later.
Now, Awood is claiming another victory: rallying together a three-hour strike of the "a majority of workers in the stow department" at the MSP1 facility in Shakopee, Minnesota.
The workers' complaints—written on a legal pad and posted to Facebook this afternoon—remain consistent from last year: over- reliance on temp labor, lack of self-determination, and crucially, a brutal pace of work that they feel does not take into account the need for bathroom and prayer breaks. (Minnesota is home to a considerable population of Somalis, many of whom are devout Muslims.)
At the rally last December, which included a speech from freshman Representative Ilhan Omar, workers described themselves as disposable to Amazon, with one sharing a story of nearly miscarrying while on the job. At the conclusion of those speeches, a number of workers left their shifts early to join the group of protesters. It is, as far as we're aware, the first protest of its kind at one of the ecommerce company's gargantuan fulfillment centers. Likewise—although they're common in Europe—this may be the first strike at an Amazon facility in the U.S.
The complete article for Portside is available at: https://portside.org/2019-03-10/amazon-workers-minnesota-hold-overnight-strike-better-conditions.
______________________________________________________________________________
Request for Help from Wells Fargo Workers
08 Mar. 2019
This appeal has been distributed by the AFL-CIO:
While working at Wells Fargo in Minneapolis helping customers with their auto loans, I have seen how the toxic, high-pressure sales culture that caused Wells Fargo so many problems is coming back.
Despite public assurances from the company, many of us across the country still have unattainable metrics and are vulnerable to retaliation if we speak up about unethical practices. The pay is so low that I, like many of my co-workers, need a second job in order to make ends meet. Incentive pay based on loan volume has returned for some employees.
While many of us are still scared about speaking up because of possible retaliation from management and the risk of losing our jobs, I have decided to join several of my co-workers in Washington, D.C., to make sure our side of the story is heard when Wells Fargo CEO Tim Sloan testifies before the U.S. Congress next Tuesday.
Sign this petition to demand that Wells Fargo CEO Tim Sloan meet with the Committee for Better Banks!
We are fighting to make things different for everyone in the industry. Together, Wells Fargo workers and community allies are coming to Washington, D.C., to hold Sloan accountable and to make sure our representatives and senators know the truth about how we are treated. We are fighting for a voice on the job and to improve our working conditions and job security so we can speak up when we're being pressured to cut corners that could harm customers.
It's time for Wells Fargo CEO Tim Sloan to meet with the Committee for Better Banks. We demand respect and a genuine "seat at the table" so we can have an honest conversation about workplace issues.
To get Wells Fargo's wheels back on, it's time to listen to the workers harmed by these problems every day.
In Solidarity,
Alex Ross
Wells Fargo employee
______________________________________________________________________________
UE Locals 506, 618 Strike at Wabtec
07 Mar. 2019
More than 1,700 workers at a locomotive manufacturing plant in Erie have agreed to head back to work on Monday, ending what will be a nearly two-week strike that garnered national attention right as Wabtec Corp. celebrated an historic merger with GE Transportation.
The Wilmerding-based transportation company and the United Electrical, Radio and Machine Workers of America Local 506 and Local 618 announced the deal in a joint statement on Thursday after meeting with a federal mediator. The two sides agreed to a 90-day contract that allows for more negotiations toward a long-term deal. . . .
Wabtec, which touted its entry on the Fortune 500 and plans to move its headquarters to Pittsburgh this year, wants to impose a two-tier wage system that maintains a $35-an-hour wage for current workers but pays lower wages to new hires and workers called back from layoff. The company also wants the ability to require overtime hours when it deems necessary.
The United Electrical, Radio and Machine Workers of America Local 506 refused to work under those terms, calling them major concessions proposed in rushed negotiations. Wabtec has blamed the union for the strike, portraying its proposals as in line with its other plants and necessary to compete with "low cost" plants in China and Mexico.
In the 90-day deal, both sides agreed to put off any kind of work stoppage and maintain key working conditions while bargaining. . . .
The full article written by Daniel Moore for the Pittsburgh Post-Gazette can be found at: https://www.post-gazette.com/business/career-workplace/2019/03/07/Strike-over-Wabtec-Erie-locomotive-workers-reach-90-day-deal-pittsburgh/stories/201903070084.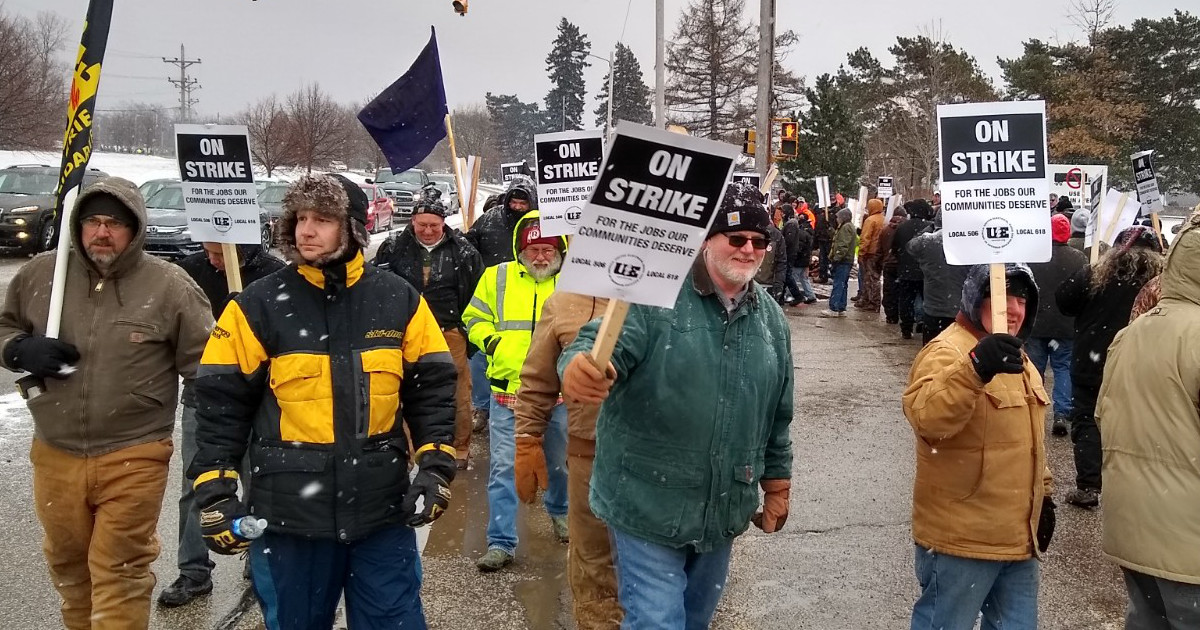 More photos from the picket line can be found on UE's Facebook page
______________________________________________________________________________</
Summit Academy Teachers Strike in Parma, Ohio
After a nine-day strike, teachers and intervention specialists at Summit Academy in Parma voted to make their first union contract official on Friday.
The strike came after teachers claimed negotiations with the school were not being handled in "good faith."
The teachers were seeking improved health and safety conditions, manageable class sizes and caseloads, planning periods, and standards that would allow the school to retain quality teachers. . . .
Summit Academy in Parma was the first charter school strike in Ohio, but the fourth nationwide, following on in Los Angeles and two others in Chicago. . . .
The complete article written by Camryn Justice for ABC 5 Cleveland is available at: https://www.news5cleveland.com/news/local-news/oh-cuyahoga/teacher-strike-at-summit-academy-in-parma-ends-with-ratification-of-first-union-contract.
______________________________________________________________________________</

West Virginia Judge Strikes Down Right-to-Work Law
27 Feb. 2019
A circuit judge has struck down key components of West Virginia's 2016 right-to-work legislation.
Kanawha Circuit Judge Jennifer Bailey issued the opinion Wednesday, three years after the Legislature first passed the law.
"The new law will require unions and union officials to work, to supply their valuable expertise and to provide expensive services for nothing," Bailey wrote in her 46-page ruling. "That is, in a word, arbitrary."
The overriding issue is whether employees who join a workplace represented by a union have to pay some form of dues, whether they embrace union representation or not.
Bailey concluded that association would not be forced on anyone. Instead, the judge wrote, the fees collected by unions "essentially function as taxes on collective bargaining members for the costs of 'legislative' and governmental services."
The judge also concluded that prohibiting a union from collecting such fees constitutes a taking of property: "It takes money from the union, and derivatively from its members, and essentially gives it to free riders."
She wrote, "Membership is obviously the lifeblood of any labor organization. Members' dues provide unions with nearly all of their revenues for operating expenses, and members' commitment and participation give the organizations their capacity to represent workers effectively in dealing with employers.
"S. B. seriously hampers the unions' ability to recruit new members and retain old ones."
The judge went on to write, "If unions cannot exact agency fees, employees would be able to receive, without any cost to them, the full benefit of the union's services in negotiating and administering the contract. And if workers can get those services for free, they would have no incentive to join the union or remain a member.
"In fact, those who do join or stay in a union would be paying a penalty for the privilege because their dues would have to be raised to underwrite the union's services provided to the free riders."
The complete article written by Brad McElhinny for WV Metro News is available at: http://wvmetronews.com/2019/02/27/circuit-judge-strikes-down-west-virginia-right-to-work-law/.
______________________________________________________________________________</
Teacher Sick-Outs in Kentucky's Two Largest School Districts
27 Feb. 2019
Kentucky's two largest school districts will be closed Thursday after a grassroots network of teachers called for a sickout to protest a bill that would restructure the board that oversees the state's teacher pension system.
Jefferson County Public Schools and Fayette County Public Schools each announced late Wednesday that they did not have enough substitutes to cover the number of teacher absences reported.
Roughly 40 percent of the district's school employees said they would not be showing up to work on Thursday, FCPS said.
KY 120 United, a group that formed during last year's teacher protests, called for the sickout Wednesday evening on social media.
Photo from earlier protests at the Kentucky capital over legislation targeting teacher pensions.
The complete article written by Mandy McLaren for the Louisville Courier Journal is available at: href="https://www.cincinnati.com/story/news/education/2019/02/27/ky-120-united-calls-sickout-over-pension-board-issue/3010332002/?utm"https://www.cincinnati.com/story/news/education/2019/02/27/ky-120-united-calls-sickout-over-pension-board-issue/3010332002/?utm
______________________________________________________________________________</
Transport Workers Union
26 Feb. 2019
The Transport Workers Union supports the launch of a dozen locals' latest campaign, American Airlines Should Care, focused on educating the public on the issues affecting Air Division members.
For over three years, the TWU has been engaged in contract negotiations with American Airlines and have been embroiled in a battle to save U.S.-based jobs that are vital to the safety and security of America's air travelers and flight crews. Now, it's time to get the general public on our side and educate them about American Airlines' unfair and potentially unsafe practices.
As a TWU member, you can help spread the message on behalf of your Air Division brothers and sisters. We cannot do this without you! The objective of sharing this campaign with your family and friends is to help spread the message of our continuing struggle to setting a contract with American Airlines.
Here's what you can do to help and find more information:
Visit the campaign website: AAShouldCare.com
Follow on Facebook: @AmericanAirlinesShouldCare
Follow on Twitter: @AAShouldCare
Sign the Petition: http://chng.it/thyrrtmzJb
When posting on social media, be sure to use the hashtag#PowerofCaring. The slogan is "Discover the #PowerofCaring"
This campaign is supported and paid for by TWU Locals 501, 502, 505, 507, 510, 512, 513, 514, 529, 567, 568, and 591.